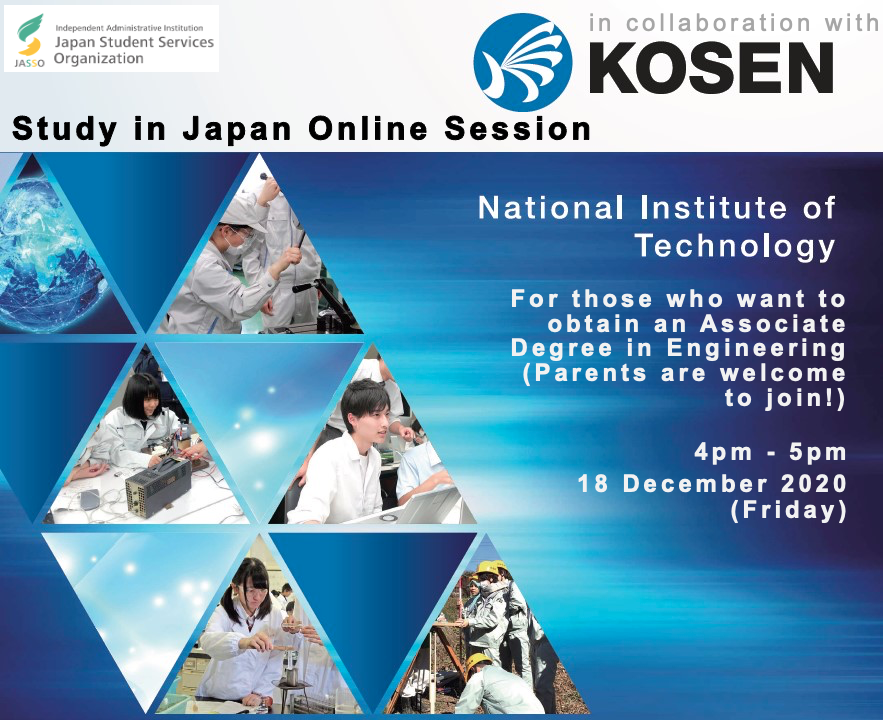 Mina-san, konnichiwa!
For our next Study in Japan Online Session, JASSO Malaysia Office will be collaborating with the National Institute of Technology, Japan (NIT) to introduce to you their special course for students who aspire to be creative, practical and professional engineers.
Date: 18 December 2020 (Friday)
Time: 4pm – 5pm
Language: English
Target audience: For high school students who wish to obtain an Associate Degree in Engineering (e.g. SPM, STPM, UEC, IGCSE and equivalent qualifications)
Registration link: https://forms.gle/Ab9ZegMuVFS3KJbZ9
The National Institute of Technology, Japan, provides a unique and successful higher-education system at their 51 Colleges of Technology (KOSEN, 55 Campuses, including 5 Colleges of Maritime Technology).
Characteristics of KOSEN:
Practical and professional engineering education

(international students will enter from the 3rd year of the Regular Course)
A wide variety of career courses available after graduation from Regular Course:

Work in desired field

(Approximately 99% of KOSEN graduates get jobs in their field of study)

Top-up two years for a Bachelor's degree

(Advanced Course or transfer to 3rd year in university)

Each college has a

large campus

comparable to a university and has a good learning environment
Equipped with high-spec research facilities so students can conduct experiments and hone their practical skills using the latest equipment
More than 80% of faculty members hold the highest degree in their research field
Cooperation with industry through

internships

and other co-op education programs

Inter-college competitions

such as Robot Contest, Programming Contest and Design Contest
Student

dormitories

provided at all colleges
Join us for the opportunity to know more about KOSEN and talk to alumnus about their experience!
Download the guidebook to get more information on their education system: KOSEN Guidebook
KOSEN Website: https://www.kosen-k.go.jp/english/