Most scholarships cover a part of a student's education and living expenses; only a few cover all the expenses. Therefore, students should check the cost of study in Japan carefully and plan their funding, without relying on a scholarship.
Some scholarships for international students in Japan can be applied for in the student's home country before the student enters Japan, but most scholarships must be applied for in Japan after the student's arrival. Most scholarships are for students at university level or above and researchers. There are few scholarships for students at specialized training colleges or for students studying at Japanese language institutes.
Applicants for scholarships usually have to go through document screening, a written examination to test knowledge in general education, the student's special area of study, language and an interview.
Another type of financial assistance provided is in the form of tuition fee reduction or material assistance.
For a list of scholarship providing organizations, please refer to Scholarships for International Students in Japan or scroll down for a list of scholarships you can apply for before going to Japan.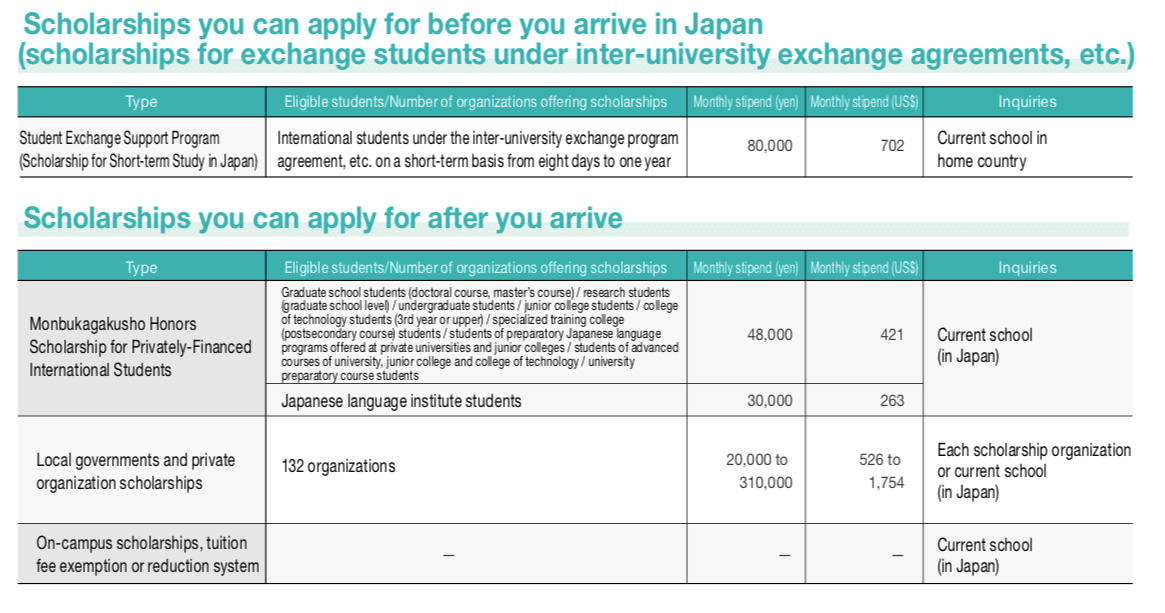 Scholarships Available in Malaysia
Before Going To Japan
| | |
| --- | --- |
| Japanese Government (Monbukagakusho : MEXT) Scholarship | Click |
| Reservation Program for Honors Scholarship for Privately Financed International Students | Click |
| Aichi Prefectural Government | Click |
| Okazaki Kaheita International Scholarship Foundation | Click |
| Kyoritsu International Foundation (Japanese Only) | Click |
| Japan Dental Association | Click |
| NOMURA FOUNDATION (Japanese Only) | Click |
| Fukuoka City International Foundation Scholarship | Click |
| Honjo International Scholarship Foundation | Click |
| Yoshida Scholarship Foundation | Click |
| Rotary Yoneyama Memorial Foundation | Click |